​SEALINK-HOLYHEAD
Justin Merrigan
Len Evans was born in Holyhead on 28th February 1922, the son of Captain Ebenezer (Eb) Evans of Blue Funnel Line and the Straits Steamship Company and Edith Maud Evans (nee Owen) the daughter of William Owen, coxswain of the Holyhead Lifeboat (RNLI Gold medal winner among other awards) who was the Pilot at Holyhead.
​
With family traditions firmly anchored in ships and the sea it was only natural that a young Len Evans would follow the family line. Starting his seagoing career in 1938 as an apprentice he followed his father into the Blue Funnel Line and within his first six years at sea survived the wartime sinking of two ships he was serving on.
​
On 10th October 1942 whilst on a voyage from Karachi to England his ship, Agapenor, picked up survivors from the torpedoed Glasgow ship Glendene. However the following day the Agapenor was herself torpedoed by U-87 some 200 miles south west of Freetown, Sierra Leone. Apart from seven crew members who perished, the ship's company were all picked up by the Royal Navy flower class corvette Petunia - over 100 survivors, less than three days after the little corvette had rescued 250 survivors from the Blue star ship Andulacia Star. Life onboard would have been grim.
Meanwhile the company's Kepong was in the Persian Gulf with Len's father Capt Ebenezer Evans in command.
​
During a voyage from Trincomalee to Calcutta Len Evans was again sunk when the Japanese submarine I-165 slammed four torpedoes into Blue Funnel's Perseus off Madras, India on 16th January 1944. Capt G.G. Rumble and his crew were all saved, being rescued by a Royal Indian Navy corvette.
Capt Len Evans recalls his war service in a speech delivered at NUMAST's Battle of the Atlantic 50th anniversary commemorations in Mariners' Park.
Many of you present today will have served at sea during the war, and you will have memories which, although dimmed by the passage of time, need little rekindling to live it all again.

I was 17 and the junior midshipman, as cadets in Blue Funnel were called, aboard their ship Ixion on their North Pacific service from China and Japan to the Canadian US Ports on the Puget Sound. We were berthing at Union Bay, a small bunkering port when Chamberlain announced that we were now at war with Germany.

A more tranquil scene one could not imagine, the pine trees swept down from the mountains to the waters edge and the limpid sea seemed almost black in the dawn haze.

I recollect small groups quietly discussing what might be ahead and breakfast that morning was a solemn affair, and of course some of our Senior Officers and the Master had seen it all before.
​
We thought that perhaps we would be withdrawn from the N. Pacific but no; we continued to carry copper and lead, lumber and paper to Japan and as we discharged in Kobe and Osaka we'd be told "Bime bye you makee die", and we had no illusions. The saving grace was the parcels of parachute silk we loaded in Yokohama for transshipment at Hong Kong for London…

On our next voyage our 4" gun, Japanese circa 1906, was fitted at the Canadian Naval Ease of Esquimalt on Victoria Island. The Chief Officer announced that we would go on a five day gunnery course, together with what Junior Engineers who could be spared - we had an all Chinese crew. We were supplemented by 3 young DEMS gunners, Canadian reservists. We learned how to deal with misfires and to fire by lanyard, and so now fully trained we sailed on Saturday for gun trials off Vancouver Island. All went well. Most of the doors on the poop collapsed, but we were judged proficient. We did one more round voyage before being transferred to a homeward bound ship at Hong Kong - Ixion followed shortly after. We had our first intimation of the real war when a torpedo narrowly missed us off Cape Verde. Nine months later this fine ship, Memnon, was sunk in that vicinity.

That summer of 1940 escorts and weapons were in short supply. The Royal Navy had suffered heavily in the evacuation from France, and one of the two rifles supplied to Memnon was landed in Glasgow because the Army needed every weapon it could get.

Convoys, which might have an escort of one or two armed trawlers or perhaps corvettes, would disperse about 150 miles West of Ireland to proceed independently and I recall that our 12 pound AA gun was removed at Cape Town for installation aboard a homeward bound ship. On our return three months later we received, in exchange, a Hotchkiss machine gun. This was fitted into a steel pipe, which in turn fitted into the teak wood rail each side of the wheelhouse. Too bad it was on the wrong side when the plane came in. Thus armed we came home, independently, proceeding to 66N 27W before turning East and then South through the Minches to Liverpool.

This fine ship, the Orestes, had a charmed life. In May 1942 she was attacked off Madras by a Japanese seaplane which she drove off by accurate AA fire and the next month she was attacked by three Japanese submarines 90 miles South of Sydney. She was hit by two shells but responded by dropping depth charges over her stern damaging one of the subs and they broke off the chase.

Ships were routed as far as possible away from known danger areas so that voyages were increased in length. Instead of proceeding North from Cape Town in September 1941 my ship, Nestor, was routed across the South Atlantic, up the Brazilian coast to Newport News for bunkers and then up to Halifax for the homeward convoy.
​
We were the Commodore of a 44 ship convoy, and were escorted out of Halifax by one corvette to rendezvous with one American merchant ship and five destroyers. The destroyers assumed escort duty, the merchant ship - which was bound for Iceland - slotted into the, convoy and we proceeded Eastward, while the corvette returned to Halifax.
​
About six days later, at 0600, one of the destroyers, Reuben James, was torpedoed and sunk with the loss of two thirds of her crew. The US was still neutral at that time - October '41 - and we were saddened at this loss of American life.

Later that day the RN escorts arrived, but the Americans stayed with us until we were almost home.

We remember those Atlantic convoys ploughing on in those grey green seas, the sloops and corvettes which rolled and pitched their way across the Atlantic. Those standard oil tankers and others, squat sturdy ships pressing on come what may, manned by men who knew - I wonder how many others did - that without their cargoes of aviation spirit and fuel oil, Britain would not survive. Brave men indeed and how often do we hear of those who went up the St. Lawrence for their cargoes of iron ore and should they be torpedoed would have a life expectancy measured in seconds not minutes. And the rescue ships such as the Rathlin, so far from home and who saved so many from the stricken convoy PQ17. And those ships, which because of stress of weather would straggle and become easy prey. We remember those very brave young RAE pilots who would be catapulted off their merchant ship in our defence and who could not return to their ship, invariably having to bale out into the sea, hopefully to be rescued by the escort.

Much has been written about the convoys to Malta and Russia. These were major naval actions which resulted in appalling losses in men and ships. 360 merchant seamen were lost in operation Pedestal, the Malta convoy of August 1942. Some might say it was a small number to preserve Malta and indeed wherever else, but it was 50% greater than all the losses in the Falklands Campaign.

A great friend of mine, an apprentice and later Junior Officer with Eagle Oil, made three trips to Malta and two to Russia. In Murmansk his ship was hit three times, but the bomb which hit the aviation spirit tanks failed to explode. Time and again one reads of specific ships taking part in those actions, and perhaps those of us who were not there, wonder why we also did not take part. I suppose the answer quite simply is that we went where we were sent, and took our chances elsewhere.

In May 1942 the first soldiers of the Maritime Anti-Aircraft Regiment joined a ship in which I served, but no doubt they had been at sea before this. Up to that time one or two Naval ratings, usually a leading seaman or a Marine would perform the duties of gun layer of our 4" gun, and the rest of the gun crew would come from our own crew. But in 1942, with the increase in armament these soldiers were a most welcome supplement to our own men. The Maritime AA lost 1,222 men at sea, while the DEMS Royal Navy personnel 2,713. Merchant navy losses amounted to 32,000. One in five killed.

Do you remember the gunnery courses at HMS Eaglet in Liverpool and our trips out to Armsdale for live firing at a target drone? It was a couple of days off and extended our leave. We were easily satisfied.

That voyage, on our way home, we picked up 38 survivors from the Glasgow ship Glendene. They manoeuvered their boat alongside Agapenor and painfully climbed the pilot ladder. Quiet and undemonstrative, at least they had a good meal and a few hours sleep before we ourselves were sunk twelve hours later. How the flower class corvette Petunia coped with over one hundred survivors less than three days after they had rescued 250 survivors from the Blue Star ship Andulacia Star, one will never know, but the welcome aboard was genuine and generous, and we will never forget her hospitality.

By now, increasing numbers of "U" boats were threatening the trade routes to the Middle East and India around the Cape, and Japanese subs were operating in the Gulf of Aden. German subs serviced by mother submarines known as 'Milch Cows', and from bases in Pewang were credited with sinking more than 170 ships in the Indian Ocean.

Despite this virtual world wide activity, many ships sailed with impunity. During Christmas 1942 I joined Perseus and we sailed at the end of January 1943 deep laden with boom defense gear for Darwin. Our route took us to New York, through the Caribbean and the Panama canal to Sydney. We discharged our cargo, part loaded for home, also with supplies for American forces in Western Australia. Having discharged the American cargo in Fremantle we topped up the remaining space, and left fully laden, across the Southern Ocean to Durban, thence to Freetown and home and as far as I can recollect this voyage was completely without incident.

We attended the usual gunnery course at HMS Eaglet and the PC instructor there told us of a new weapon, the Glider Bomb, which he dismissed as dead easy saying "You need no aim off, just wait until it is within range and shoot it down!"

We signed Articles in Birkenhead and the Shipping Master explained that because the invasion of Europe was imminent they hoped that the Merchant Navy crews would volunteer to take part. This was a national campaign, but I think we were slightly sceptical, believing we'd go wherever the ships were sent. However we did volunteer and the letter V was written on our Identity Cards. I still have mine.
​
Once again we were the Commodore of a 40 ship convoy out of Liverpool bound for the Middle East and India. I'm sure everyone has a date, or dates, which they particularly remember but mine was that highly symbolic date, 11th November, a day of remembering the sacrifices of the first war and now of this, and this was 1943. Early that day the SOEO came alongside and told the Commodore that we could expect an air attack that evening. The Perseus convoy number was 51. The ship astern, a fine big Dutch ship, was 52. She was bound for the same Indian Ports with an identical cargo except she had a 75 ton tug on deck.

We were closed up at Action Stations, when at 1800 in the vicinity of Oran the eastern sky lit up with 12 or 15 brilliant red flames. These were the glider bombs which I don't think any of us had seen before. In no time they were overhead and happily ours fell close astern. I'm not sure that anyone did open fire. Shortly afterwards 52 was hit and she exploded sending the 75 ton tug catapulting into the sea, silhouetted against the flame and smoke. Almost as the debris was falling, No. 53 closed up to take the station occupied by this fine ship just seconds before.

The attack continued for some time, in darkness, medium level and torpedo bombers being used. Low flying planes seem to skim over the fo'c'sle head, but Perseus was unscathed. Although the convoy took casualties and ships were lost, we sailed on.

On a more personal basis I was reminded of this some months later.
I met my father in Colombo and we spent New Year 1943/44 together. He was Master in a Blue Funnel subsidiary based in Singapore and had got away to India and had recently returned from a spell in the Eastern Mediterranean. Now he was on his way to Cox Bazaar on the Arakan in support of the 14th Army. The Perseus sailed on to Trincolamlee where she discharged 5,000 tons of sea mines before proceeding independently to join the North bound convoy to Calcutta. Unfortunately we met a Japanese submarine which sank this fine ship, but it took four of her torpedoes to do so. My father was on the point of sailing from Colombo to join the Calcutta convoy when the NCSO came on board and told him that Perseus had been sunk and that there was no news of survivors. In the event it was far too early for news of survivors. However the convoy must proceed. I wonder what his thoughts were two or three days later when he passed through the area in which Perseus was lost.

We all came home by troop ship from Bombay, and then dispersed to various ships. I joined Bellerophon in St Johns New Brunswick. The usual North Atlantic weather, fog for five days during which time we followed each others fog buoy, and miraculously were still in some sort of formation when the fog lifted. Then a circumnavigation of Africa with an alarm in the Gulf of Aden, and so around the Cape and home again to Liverpool. I came ashore for a couple of months to take my 1st Mates. Certificate, studying at the Liverpool Tech.
The War in Europe ended while aboard Arpendon on passage from London to Liverpool. On VE Day, it being adjudged too risky to proceed further because of U boat activity in the Irish Sea, we were directed to seek shelter behind the Boom Defence in Milford Haven. We finally arrived in Liverpool VE Day + 2

In July 1945, I sailed aboard the P&O ship Chitral with a couple of thousand service personnel and nurses bound for India and the eventual invasion of Malaya and perhaps Japan. There were a few other MN personnel going to join various ships. Mine was in Chittagong.

One day in the Arabian Sea we heard the Americans had dropped some wonder bomb. No one knew much about it, but when the second was dropped a day or so later, and Japan surrendered, we were delighted. The invasions ultimately would have been bloody, affairs and many on that ship and thousands more would have perished.

This, ladies and gentleman, is my story, a tale of a Merchant Seamen who is conscious that there will be thousands who have a much more heroic tale to tell, but perhaps I have given some sense of what it was like to be there.
Perhaps Kipling's verses in 1914-18 summed up what we achieved from 1939-45.

"For the bread that you eat and the biscuits you nibble
The sweets that you suck and the joints that you carve
They are brought to you daily by all us big steamers
And if anyone hinders are coming, you'll starve."

And when we talk amongst ourselves of those we have known and who were lost at sea, we remember that other poem by Kipling, each verse ending;

"If blood be the price of Admiralty,
Lord God we have paid in full."

L.R. Evans
21st August 1998
There were two sets of officers on board; Capt Len Evans, and Capt John Peters as masters, the latter taking her out of Holyhead. Walter Lloyd-Williams and Lewis Pritchard as mates. Trevor Salmon and Dai Davies as second mates and Tudor Jones and Glynne Pritchard as third mates. That evening, guests attended a Dinner at the Royal Marine Hotel, addressed by An Taoiseach (Irish Premier) Mr Liam Cosgrave TD The Chairman of British Rail, Mr Peter Parker offered a toast to the new ship: "The St Columba as a symbol of strengthened ties between the people of Ireland, the people of Britain and the people of Europe.
The St Columba was a fine sea ship, but the Irish Sea can be an unkind place and Saturday 19th December 1981 saw it at its worst, this being the night the Penlee Lifeboat RNLB Solomon Browne was lost with her entire crew going to the aid of the coaster Union Star in the western English Channel. For Capt Evans, Chief Officer Glynne Pritchard and 2nd officers David Farrell and Ken Jones on the St Columba it was a long first passage in their 24hrs on. With winds at Force 12 plus the ship was hove to off the Kish Tower for eight hours, conditions at Dun Laoghaire being impossible to even consider an attempt at berthing. She eventually got alongside at Dun Laoghaire at 0630hrs the following morning, 14 hours after leaving Holyhead.
Left: The Ixion
Below: The Nestor
Under: The Agapenor
Bottom: The Perseus
After the war and still with Blue Funnel, a company affectionately known as the Welsh Navy, the 26 year old obtained his Master's Ticket in February 1948, but not before escaping serious injury when the ship in which he was serving struck a mine off Singapore in 1947. In April 1948 he joined British Railways at Holyhead.
Chief officer Len Evans alongside at Holyhead in one of the mailboats
Chief officer Len Evans alongside at Holyhead in one of the mailboats
In July 1963 he married Frances (nee Fleming) of Lesson Park, Dublin and in June 1966 their daughter Eleanor was born.

Following service as a deck officer Captain Len Evans' first commands were on the four "Slieve" cargo vessels operating between Holyhead and Dublin.
Capt Len Evans related his experience of swinging the Slieve Bloom in Dublin. "The cargo ships would sometimes swing stern on the quay at Dublin when strong Easterlies prevented us backing up the Liffey. When convenient we would then swing stern on the quay, and usually there was enough 'fresh' in the river to push her around, except for one occasion - at least in my experience.
​
"This was on 24th December 1962. Work was to stop at 1300, so everyone was looking forward to an early departure. Unfortunately it was a good Easterly Force 8, so the Slieve Bloom would not swing stern on the quay. I decided to proceed stern first down to Alexandra Basin, swing there and proceed out. It worked like a dream, much to the evident surprise and delight of all hands who were beginning to wonder if we'd be home for Christmas!"
The Slieve Bloom leaving Dublin.
The Slieve Bloom leaving Dublin.
His first passenger command came in 1966 when he became master of the Hibernia, one of the passenger/mail ships on the Holyhead – Dun Laoghaire service. But it was not long before he found himself in the new car ferry, Holyhead Ferry 1 and also the Dover.
The Hibernia (C) Ian Collard
The Hibernia (C) Ian Collard
Captain Evans recalls a voyage in the turbine steamer Dover in September 1974. "We left Holyhead in flat calm conditions, but it was a good Force 12 Northerly in Dun Laoghaire. I was able to berth, but the sea in the harbour was such that she was pitching and rolling alongside the berth.

"Clearly she was going to suffer major damage, and so I sailed back out into Dublin Bay where I turned circles for the next twelve hours until conditions improved slightly and I was able to go back alongside, discharge cars and passengers and reload.

"At about 2300 hrs I had a message from Valley that the wind was now 83 mph. Coming into Holyhead was not funny; at one stage it seemed inevitable that she would smash into the Refit Berth. However, she came around, and I was delighted to berth in the Station Berth.

"After we got alongside, the Carpenter came up to my room, which he never did usually and said, 'Captain, if I was to die, I prayed for you, and she came around" with tears rolling down his cheeks.'
​
"He left me a very chastened man, that one of my crew had thought so much!"
In 1976 Capt Evans was appointed Senior Master of the new car ferry then under construction and in April 1977 he commanded the St Columba on her delivery trip from Denmark to the Irish Sea.
​
This was a time of celebration for all connected with the link and on Wednesday April 27 the St Columba undertook her inaugural voyage to Dun Laoghaire with members of the Irish Government, British Rail Board, tour operators, journalists and other VIPs onboard.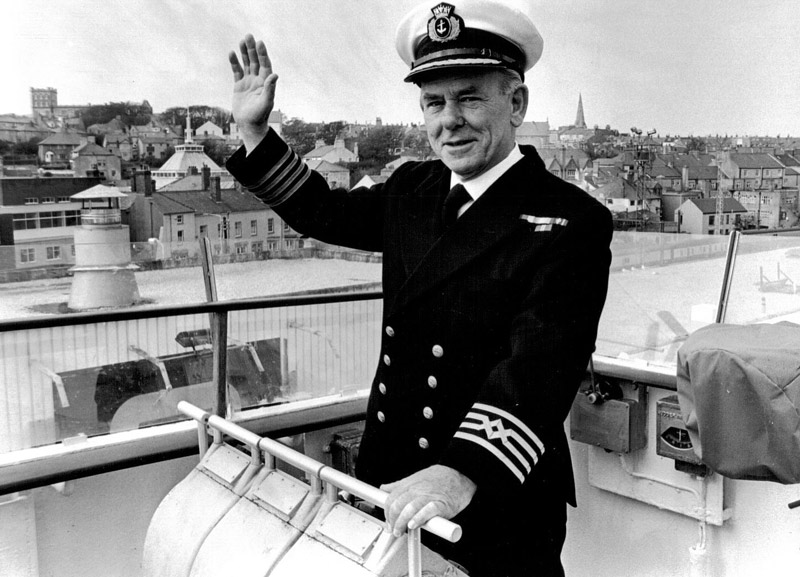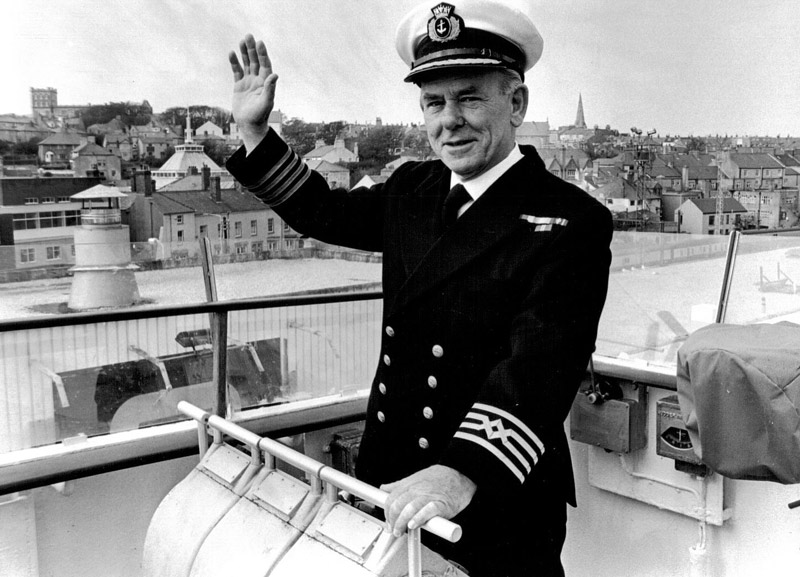 In December 1982 Captain Evans, unable to berth at Dun Laoghaire due to a south east gale Force 11-12, steamed slowly south from the Kish lighthouse. "In the vicinity of the Codling I found myself looking up at the sea from the bridge! Needless to say I did not stay down there for long, and was most surprised when a German ship called me up asking if I could assist him, because he, as the giving way vessel, was concerned not to alter course because his cargo of phosphates could ship. One touch on the St Columba's telegraphs and she was away like a scalded cat, much to the admiration and relief of the German."

When he retired in September 1986 Captain Evans had served over 48 years at sea, 25 of which were in command – making him the most senior master in the Sealink fleet.
​
Captain Evans was a loyal union member, joining the NEOU in 1942 and transferring to the MSSA in 1962. He joined the MMSA Council in 1977 and held the posts of deputy vice-president and vice-president before becoming MMSA president in 1985. Through his involvement in the MMSA, Captain Evans became increasingly dedicated to the welfare of seafarers — being closely involved with the care of retired seafarers and their dependants at the Mariners' Park complex in Wallasey and the Union's charitable functions, chairing the Welfare Funds Committee from 1985 to 1999.

In 1993, to mark 16 years of service on the Mercantile Marine Service Association Council working to expand and improve the warfare facilities for elderly retired seafarers and their partners at the 16 acre Mariners Park complex in Wallasey, Captain Evans was presented with the Nevins and Griffiths Award by the Merchant Navy officers' union NUMAST. Former colleagues at Holyhead recommended to NUMAST Council that Captain Evans be considered for the award, a move forwarded by Captain Tudor Jones on behalf of active members and seconded by Captain Glynne Pritchard on behalf or retired members. It was typical of the admiration and respect still held at the port for their former Senior Master seven years after his retirement.
​
Captain Evans crossed the bar on July 20, 2005.

The Len Evans Memorial Garden
In tribute to Capt Evans's work with the officer's union, now known as NAUTILUS, a special memorial garden was opened at the union's Mariners' Parkretirement complex in September 2006.

The Len Evans Memorial Garden was planned and created by Mariners' Park's own team of gardeners, led by head gardener Danny Kelly. It features a special variety of rose named 'Remember', which was commissioned by the Imperial War Museum and used in the Peace Garden at the 2005 Chelsea Flower Show. The centrepiece of the Len Evans garden is a 1.5 ton anchor donated by the Mersey Docks and Harbour Company, and a pergola, brass plaque and commemorative bench complete the layout.
​
At the opening ceremony, the current Welfare Funds Chairman, Captain Paul Robinson, gave a speech in remembrance of Capt Evans's life before the garden was declared officially open as Captain Evans's wife Frances cut a ceremonial ribbon. Mrs Evans and her daughter Eleanor said the garden was a fitting tribute to the memory of Captain Evans, who had been a keen gardener and had particularly liked roses.
With thanks to Mrs Frances Evans and Ms Eleanor Evans for their contributions to this page.
NAUTILUS and its periodical The Telegraph is also acknowledged.
All material on this page is strictly Copyright © The Evans Family and Justin Merrigan.