​SEALINK-HOLYHEAD
Justin Merrigan
On one of the early mailboats, back row; Capt Richard Woodall, Capt Borthwick, Capt Horspool, Capt N Lloyd Williams, Capt Robert Sherwood, Holyhead's Station Master William Hughes and Capt Dick Thomas. In front are (L) Capt Aderne, Capt Manning, Jack Gibson Supt Eng & Capt Meade.
| Captain Ardern | Captain John W Bakewell | Captain William Carroll |
| --- | --- | --- |
| Captain George Davey | Captain Bob Crane | Captain Len Evans |
| Captain Ivor Griffiths | Captain Jesse Hughes | Captain W.H. Hughes |
| Captain Cyril Jones | Captain Graham Manning | Captain Albert Marsh |
| Captain John Mason | Captain Jack Milburn | Captain John Peters |
| Captain Evan R Pritchard | Captain Lewis Pritchard | Captain Idwal Pritchard |
| Captain Richie Roberts | Captain John Rowlands | Captain Trevor Salmon |
| Captain John Sinnott | Captain Alun Thomas | Captain Freddie Tunstall |
| Captain Owen Wyn-Jones | Captain Walter Lloyd Williams | Captain Woodall |
Captain John Bakewell on the bridge of the St Columba
Captain John Bakewell on the bridge of the St Columba
Captain John Bakewell ​ John Bakewell joined the Thames Nautical College "HMS Worcester in January 1946 after passing the entrance exam from King Edward VI High School, Birmingham where he had been for five years.  Leaving "Worcester" at the end of 1947 obtaining First Class Extra Certificates in school work and seamanship.  On January 16th 1948 John joined Shaw Savill's MV Coptic as one of three cadets.  At the end of three years apprenticeship he took his 2nd Mates Certificate and stayed on with Shaw Savill's to join Dominion Monarch as Junior 4th Officer.  Having stayed with Shaw Savill for nearly ten years he left them as 2nd Officer with a Master's certificate. John Bakewell then joined HMS Worcester as 3rd Officer, staying there for six months before joining British Railway ships in Holyhead in 1958, his first ship being the Slieve Bloom. His first command was the Slieve Donard. Captain Bakewell retired as Senior Master of the St Columba in 1991. Enjoying further education Captain Bakewell took a BA degree in mathematics whilst with Sealink. Captain Bakewell passed away in February 2015.
Captain Len Evans ​ Capt Evans began his seagoing career in 1938 as a midshipman with Blue Funnel Line, joining British Railways at Holyhead ten years later.  His first command was on the Slieve Bloom, one of the four cargo vessels operating to Dublin. His first passenger command came in 1966 when he became master of the Hibernia.   In April 1977 he commanded the new St Columba on her delivery voyage from Denmark to the Irish Sea.  When he retired in September 1986 Capt Evans had served over 48 years at sea, 25 of which were in command – making him the most senior master in the Sealink fleet. Capt Evans was also a loyal union member, joining the NEOU in 1942 and transferring to the MSSA in 1962. He joined the MMSA Council in 1977 and held the posts of deputy vice-president and vice-president before becoming MMSA president in 1985. Through his involvement in the MMSA, Captain Evans became increasingly dedicated to the welfare of seafarers — being closely involved with the care of retired seafarers and their dependants at the Mariners' Park complex in Wallasey and the Union's charitable functions, chairing the Welfare Funds Committee from 1985 to 1999. In 1993, to mark 16 years of service on the Mercantile Marine Service Association Council working to expand and improve the warfare facilities for elderly retired seafarers and their partners at the 16 acre Mariners Park complex in Wallasey, Capt Evans was presented with the Nevins and Griffiths Award by the Merchant Navy officers' union NUMAST.  Former colleagues at Holyhead recommended to NUMAST Council that Capt Evans be considered for the award, a move forwarded by Capt Tudor Jones on behalf of active members and seconded by Capt Glynne Pritchard on behalf or retired members. It was typical of the admiration and respect still held at the port for their former Senior Master seven years after his retirement. Retiring in 1986, Capt Evans enjoyed a happy retirement before crossing the bar in July 2005.  Futher reading.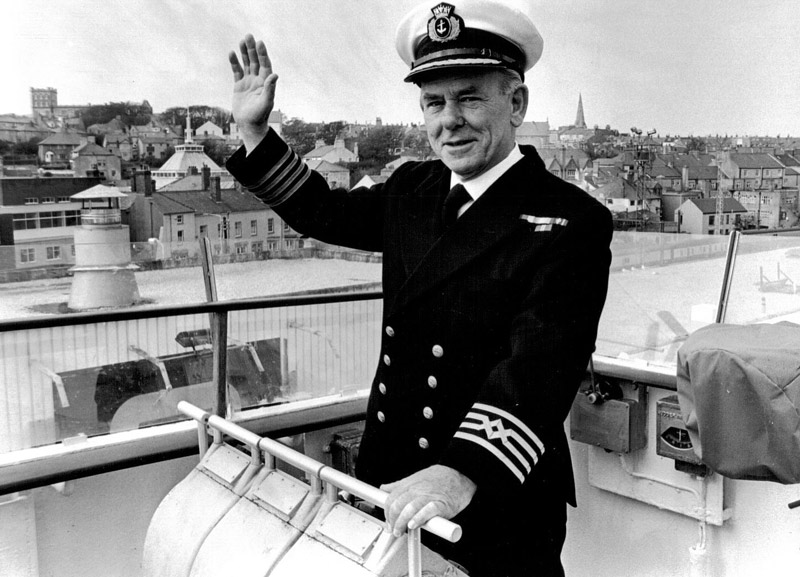 1/1
Captain Hubert Hughes
​
A Holyhead man, Hubert Hughes first went to sea at the age of 15 and served four years as a cadet officer with P. Henderson & Co., Glasgow before taking his Second Mate's certificate in 1942. He was appointed Third Officer on theHensada. After gaining his First Mate's ticket he joined Ellerman Line where he got his Master's ticket.
Capt Hughes joined the LMS ships at Holyhead, initially sailing on the Slieve Bloom and all Railway vessels at the port before being appointed as Holyhead's Marine Superintendent after command of the cargo vessel Harrogate. Retiring in 1981 Capt Hughes worked closely with Capt Len Evans, both ensuring the successful entry into service of the new St Columba in 1977.
Captain Richard Roberts
A native of Llanddeusant, Anglesey, Richie Roberts was born in 1907. He went to sea in 1922, aged 15, working as a deck boy on one of Sir R.J. Thomas's ships, the Glenearn. His first voyage was round the Horn to Valpariso, Coronel, Callum returning via Montevideo, Dunkirk to Hull. The ship was manned mainly by Anglesey men and the master was Capt Jones from Newborough.
By the time he was 20, Richie had gained his Second Officer's Certificate. After this, in 1926 he joined Strick Line, sailing to the Persian Gulf and up the Euphrates to Basra. Later again, he joined Furness Withy as Fourth Officer on the London Merchant, and sailed many times for the company between the UK and West Coast of America until in 1937 he gained his Master's Certificate.
In 1939 he came to Holyhead joining the London, Midland and Scottish Railway as Second Officer. During the war years, he was primarily on the Hibernia. In 1947 he was transferred to Heysham -Belfast route. He returned to Holyhead as First Officer on the Slieve Donard in 1949, and in 1954 became a master in the cargo ship Service. In 1960 was gained his first passenger command - the Princes Maud.
In 1965, after 43 years at sea, Capt Roberts became the first master of the Holyhead Ferry 1 - the first drive on-drive off passenger car ferry at Holyhead. In 1970, when the Britannia Bridge was destroyed by fire, he went with the Hibernia to Heysham, until the bridge was rebuilt.
Capt Roberts retired at the end of 1971. He passed away in June 1986.
​Captain Freddie Tunstall​
Capt John Bakewell recalls Freddie Tunstall very well. "He was what we used to call a real gentleman. I sailed with him a few times when he was Master of the Hibernia or Cambria. After retiring, he came back as an officer on our container ships. Our role was reversed with me as Captain and Freddie as 2nd Officer!! He was great fun with an ideal personality.'